Commercial Insulated Doors
Overview
Swing - Manual Operation

Single or Double Panels

Magnetic Perimeter Door Seal
Interior / Exterior Applications
R-32 Insulation Value (4″ Door)
R-48 Insulation Value (6″ Door)
Custom Sizes Up To: 120″ x 168″
Ideal For

Cooler/Freezer Storage
Pharmaceutical
Food Service
Restaurant
Overview
Sliding - Manual Operation

Single or Bi-Parting Panels
Magnetic Perimeter Door Seal
Interior / Exterior Applications
R-32 Insulation Value (4″ Door)
R-48 Insulation Value (6″ Door)
Custom Sizes Up To: 144″ x 192″
Ideal For

Cooler/Freezer Storage
Manufacturing Plant
Warehouse Storage
Food Club Stores
Overview
Sliding - Motorized Operation

Single or Bi-Parting Panels

Magnetic Perimeter Door Seal
Interior / Exterior Applications
R-32 Insulation Value (4″ Door)
R-48 Insulation Value (6″ Door)
Custom Sizes Up To: 144″ x 192″
Ideal For

Cooler/Freezer Storage
 Food Manufacturing
Warehouse Storage
Food Club Stores
Cooler And Freezer Strip Doors
Overview
Strip Door

Stud Or Tube Mount

Title 21 CFR compliant
PVC allows a clear line of sight
NSF and USDA approved freezer door strips
The plastic stays flexible at low temperatures
Maintain sanitation inside and out
Ideal For

Walk-In Freezers
Walk-In Coolers
Personnel Openings
Supermarkets
Restaurants
Bakeries
Food processing plants
Which Door Is Right For You?
Door closer with spring-hinge
Aluminum diamond tread kick plate
18-gauge stainless-steel kick plate
Keyed latch (Std. w/ Swing Door)
Door closer with standard latch
Casing mounted thermometer
Casing mounted light switch
Full-panic bar latching hardware
Heated door seals (Std. w/ freezer)
6" thick door (For extreme cold)
Other Options Available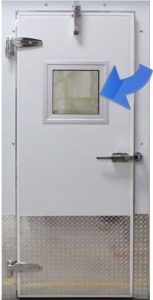 Optional triple-pane windows are gas-filled. Available sizes include 14 x 14 and 14 x 24.  (Freezer windows are heated)
All doors come standard with Embossed White Galvanized facings. Optional facings are also available.
If you have foam panel walls, we offer optional thru-wall frame and mirror casings to secure your door into place